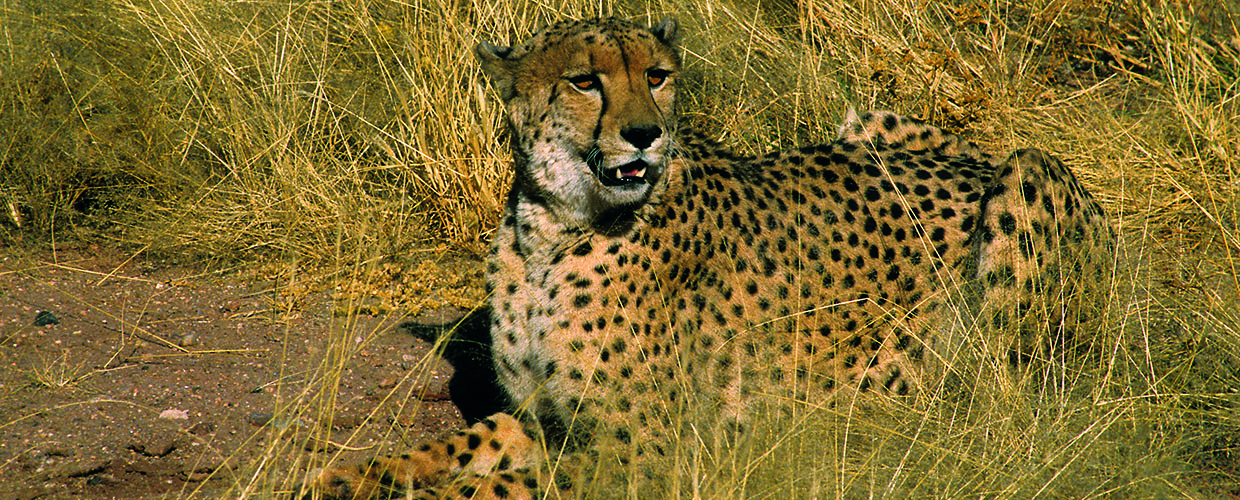 Photo ©Paul van Schalkwyk
T he cheetah with its elegant, deep-chested appearance, cannot be compared to any other cat. It has non-retractable claws and hunts by running down its prey with sheer speed. Said to be the fastest land mammal on earth, the cheetah is capable of speeds over 100 km/h. However, this incredible speed cannot be maintained for very long. Should the cheetah not be able to catch its prey within 500-600 meters, it gives up the chase.
These big cats are either solitary or encountered in groups of two to five animals. When they hunt in groups, they are able to catch larger prey, such as fully-grown zebra or hartebeest. Cheetah are highly unpredictable in their movements, yet they regularly visit their so-called play trees, which they mark by urinating and defecating against the trunk and around the trunk.
Although cheetah are widely distributed in central and northern Namibia, taking one depends largely on luck. Normally they are taken on chance encounters. In such cases, the hunter should not hesitate to risk a quick shot. Maneuvering normally spoils the opportunity. As cheetah feed only on fresh meat, they cannot be baited like leopard. There is, however, an opportunity to sit up for cheetah at a known 'play tree'. These trees normally have a horizontal trunk or big branches hanging low, which allows the cheetah to climb them more easily.
It is also possible to track the cats down, should fresh spoor in the soft earth be encountered. Another method to hunt cheetah, if they have been seen in the vicinity, is by slowly stalking through patches of thick bush at noontime.
While the success rate when hunting for cheetah is low, a chance encounter in many of Namibia's hunting areas is always possible.
CHEETAH
Acinonyx jubatus



---
| | |
| --- | --- |
| | |
| Mass: | Male: 40-65 kg | Female: 35-50 kg |
| Food/prey: | Small and medium-sized antelope, hare, spring hare, ground-living birds |
| Mating time: | Throughout the year, 2-6 young |
| World record: | 36.83 cm (skull) |
| | |