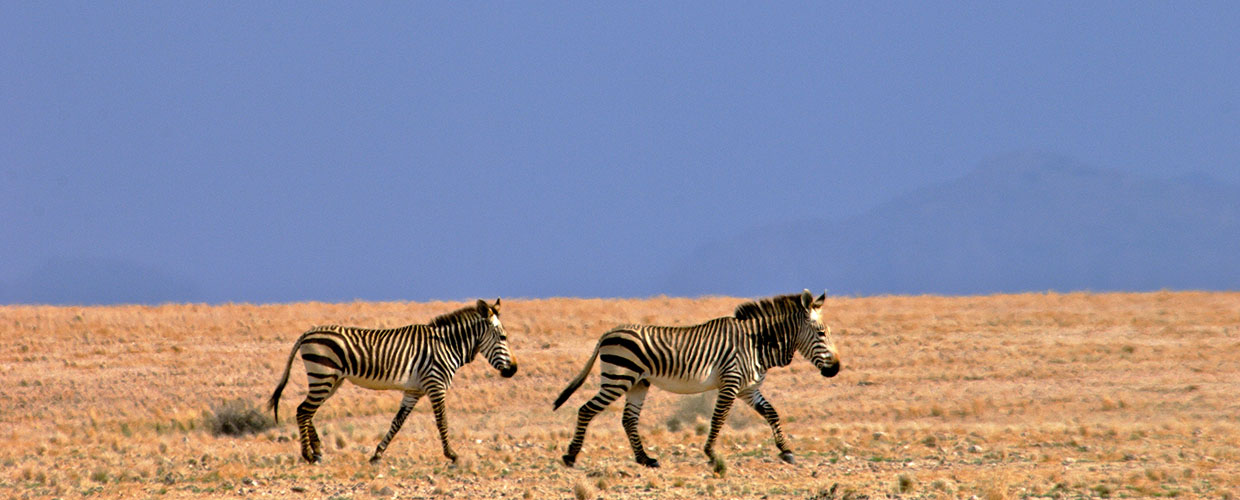 Photo ©Paul van Schalkwyk
HARTMANN'S MOUNTAIN ZEBRA
Equus zebra hartmannae



T he Hartmann's mountain zebra is one of the uniquely characteristic and endemic game species of the dry, barren and rugged escarpment of the western habitat in Namibia, extending for some distance into south-western Angola.
Beautifully patterned, this very decorative trophy is distinguished from the more common Burchell's or plains zebra by a characteristic dewlap. On both hind legs the narrow black stripes of the body swerve into a broad horizontal striping. While with the Burchell's zebra the black stripes meet underneath the belly, the Hartmann's zebra has a plain white belly. The Burchell's zebra has stripes to the knees only, while the Hartmann's zebra has distinctly striped legs down to the hooves.
The animals stay on rocky slopes in small family units of five to eight animals during the day. Late in the afternoon they usually start to move downhill to drink and feed in the valleys during the night. Mountain zebra country is characterised by deeply trodden game paths and well-used dust bowls.
Hartmann's mountain zebra hunting is sporting and adventurous. In most cases the most laborious part of the hunt is bringing down the meat from the mountain.
HARTMANN'S MOUNTAIN ZEBRA
Equus zebra hartmannae



---
| | |
| --- | --- |
| Shoulder Height: | 150 cm |
| Weight: | 280-340 kg |
| Life expectancy: | 35 years |
| Gestation period: | 12 months (1 foal) |
| Diet: | Grass |
| | |