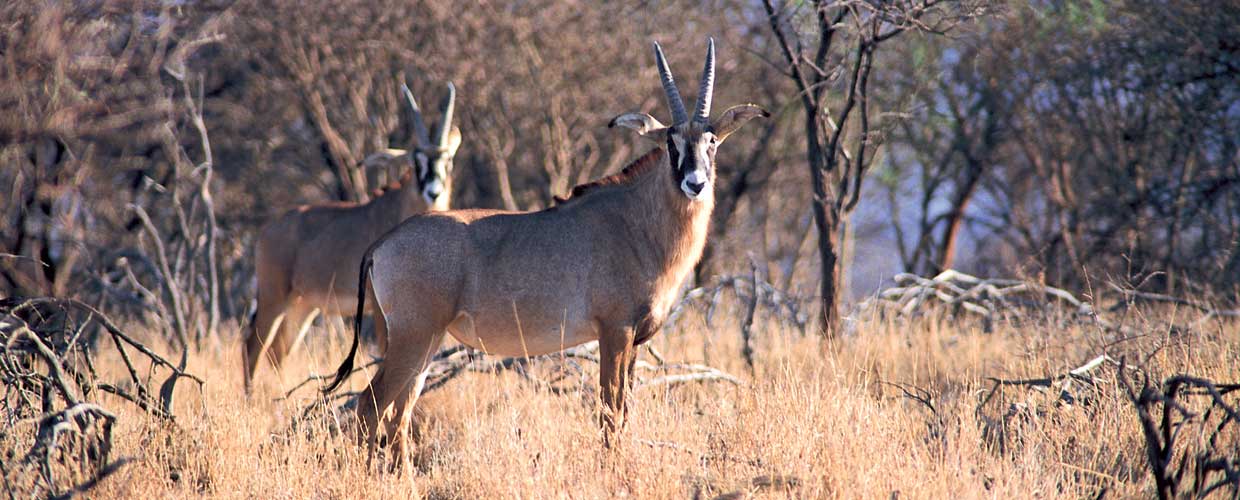 Photo ©Hennie Victor
ROAN ANTELOPE
Hippotragus equinus

T he roan antelope is a very large antelope of massive build. It is a self-willed, self-confident animal and a highly attractive game species, especially because hunting roan in the wild is possible only in very few areas.
Roan antelope occur in Namibia in the wild only in the extreme north east.  In the northern open safari areas few animals are available on quota.
These antelope live in small herds of six to about 30 animals. The bulls join the herd only during the rutting season; old bulls are often  territorial bachelors. To hunt roan it is recommended to take up the trail of  an old bull at a waterhole and follow it. Roan antelope occur in Namibia almost exclusively in flat, thickly bushed terrain, and are therefore very difficult to hunt. Yet, when spooked, they often stop after taking off to look back, thereby offering the chance of a shot. Because it is a very heavy animal, and is hunted in thick bush, it is recommended to use a heavy caliber of at least 9 mm.
A roan antelope that has been hit can be very aggressive, therefore a certain caution is advisable when following a wounded animal.
ROAN ANTELOPE
Hippotragus equinus



---
Shoulder Height:

 

125 cm – 150 cm

Mass:

 

Male: 270 kg – 340 kg | Female: 180 kg

Diet:

 

Grazer and browser

Gestation period:

 

9 months (1 young)

Life expectancy:

 

18 years